Forgive me please but I moved to Thousand Oaks, CA in 2010 and have not updated this page. I'll try to get that "round tuit" fairly soon. (This is not to say Santa Maria is not a nice city, it is; I just needed to make this move for personal reasons.)


Santa Maria is a smallish city about 175 miles north of Los Angeles, California. The city itself has a population around 68,000 and the greater metropolitan area numbers around 100,000.
I live just north of Vandenberg Air Force Base and now and again get treated to nice shows when they fire off a rocket. This is a picture of the "twilight effect" on a Minuteman II missile as seen from my kitchen window; looking straight into the missile's exhaust (twilight effect is when the missile launches in the dark but climbs into the sunlight; it can lead to some spectacular light shows).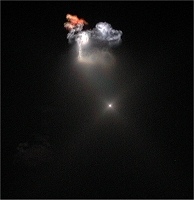 I've included my (and my company, Computer Knowledge's) general location on the graphic below (80K--give it a moment please).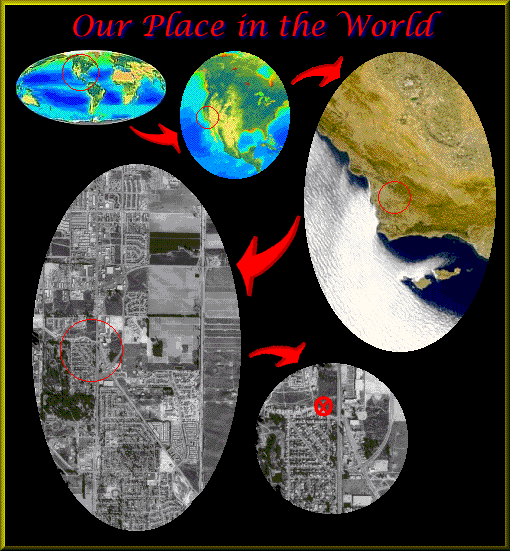 Some of the things I like about Santa Maria and surrounds [most apply to Thousand Oaks as well - will be more specific later]:
Generally friendly and polite people. Most still say "thank you" when you open the door for them.
Beautiful weather. Temperature in the 60's and 70's (70's to 80's in TO) most of the year with lows hardly ever getting down to freezing make living easy. April and May can get windy (and there is a breeze most every day), but there has to be a down-side to everything. (Don't believe me? Here's the temperature when the page loaded. Click on the picture to get a full forecast.)


Fresh-off-the-farm berries and vegetables. From late March through early October one only has to go to a local farm to pick up fresh-picked strawberries. Other vegetables are also available in season, and various cities in the area have regular farmer's markets.
Easy access to most of California. While appearing isolated, we're three hours from Los Angeles to the south and five from San Francisco to the north (assuming anyone actually wants to go either place and Highway 101 is not cut.
City and country in one place. The city runs about six miles north and south, but one mile east or west and you're in the country/farmlands. A little further out and one can be completely surrounded by unspoiled land.
A reasonable infrastructure. While not technologically up to speed with a major metropolitan area, the area has enough resources to support work-at-home needs. This infrastructure is building every day (there are now several local Internet Service Providers in addition to the national ISPs, for example). Sadly, I'm located at the far end of any possible DSL line and the local cable company does not provide Internet service yet. But, it's coming. Fixed wireless to the area is also coming.
The area has strong historical roots. The first town (La Graciosa) started at the south end of the valley in 1868. It lasted until 1877 when H.M. Newhall was granted the land the town was standing on and he ejected everyone. On April 12, 1875 Central City was registered as a town centered at the intersection of Main and Broadway. In 1882 Central City changed its name to Santa Maria in order to satisfy the US Post Office (a Colorado Town was already named Central City and mail was routinely misrouted). Ranching became a mainstay of the valley. Oil was found and a boom followed. As the oil fields began to dry the valley added farming and is now slowly adding grape vineyards and wine making. Indeed, even the famous have found the area; Fess Parker of Disney's Davy Crockett fame has opened a vineyard and premium wine making operation not too far away and a number of stars have homes in the Santa Ynez valley just to the south.
We all look forward to a great future in Santa Maria.

Find out more about Santa Maria here.
Even More Info
Through a special arrangement with Amazon.com we can offer you books at a substantial discount. You may find one or more of the following of interest...
---
Comments? Please use the contact page form.
Copyright © 2002-2011 Tom Simondi, All Rights Reserved