Desert View
The furthest east you can drive along the South rim is the Desert View viewpoint. This is actually one of the few points on the South rim that you get a view of the river itself; it's hidden by the valley walls at the other viewpoints. Desert View, however, looks both across the canyon (on the left in this panorama) and upriver in the canyon (on the right in this panorama).

A close-up shows one of the bends in the river.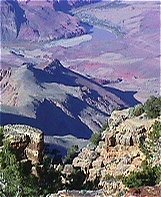 | | |
| --- | --- |
| One of the interesting sights at Desert View is the Watchtower built by Mary Elizabeth Jane Colter. Nobody really knows what its function is but you can climb to the top for even better views of the canyon. | |
A few of the views from Desert View are presented here. The identification of the specific formations may be incorrect; but believed accurate.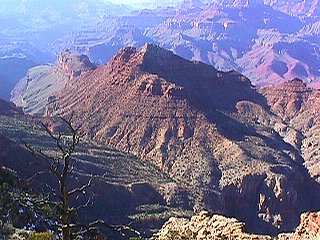 Escalante Butte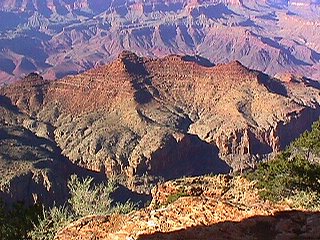 Cardenas Butte
Finally, to the east of the Desert View viewpoint are the Palisades of the Desert, seen here in panorama view. Indeed, on a clear day, from this viewpoint you can see not only the canyon and river but also the Grand Staircase Vermilion Cliffs, San Francisco Peaks, and Painted Desert.

That's it for the tour. It was short, but well conducted and we saw quite a lot. If this is not enough, however, see the More Info page. Thanks for coming.
---
Comments? Please use the contact page form.
Copyright © 2002 Tom Simondi, All Rights Reserved