Yosemite National Park
| | |
| --- | --- |
| | Yosemite National Park sits in the middle of the western portion of the Sierra Nevada mountains. There are three routes into the park: from the south use Highway 41 from Fresno; from the west take Highway 140; from the north or east Highway 120 is the route to take (120 across the park is closed by snow about half the year). I like to enter the park on 41 and exit via 140 then take Highway 49 south to 41. This gives a wide variety of views of the park, its features, and various sights around the park. |
When you arrive on 41 you enter at the south gate. Here you can take a quick right turn and visit the Mariposa Grove of trees or turn left and transit the park to get to the main Yosemite Valley. We'll visit the trees later.
| | |
| --- | --- |
| Just before entering the valley itself you pass through a tunnel. Use caution at the end of the tunnel, there is a viewpoint area that is quite popular and there are people crossing the road. Plan to stop and take in the view. | |
The view of the valley you get from the tunnel viewpoint is extraordinary. It also shows the many moods of the park. The pictures here come from three different trips: a personal trip in 1997 (pictures taken by a film camera and scanned in), a bus tour in 2002, and a personal tour in 2006 (pictures taken with a digital camera). A fourth set of black and white pictures is also included. These come from my father's picture collection and date from 1936/1938 (two trips but I can't tell which picture came from which trip).
Here you see the "classic" view from 1997. That trip was in the summer, shortly after the park re-opened after the extensive 1997 January flood. The water was still flowing nicely in all the falls. The sky was blue with a few cloud accents (and one contrail

) and the sun was behind me. In short, the perfect picture...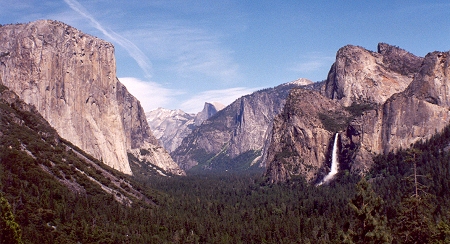 The 2002 bus tour arrived on a day when the valley was in the midst of a seasonal storm. Not enough rain had fallen to generate any water in the falls and the sky was an angry grey...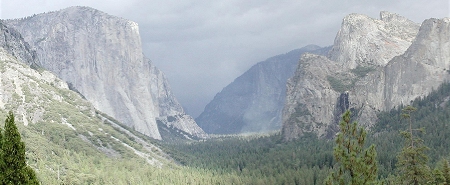 The next day we again visited the viewpoint. The storm had passed but it was morning and the light was in front of me instead of behind. This gives yet another view of the valley...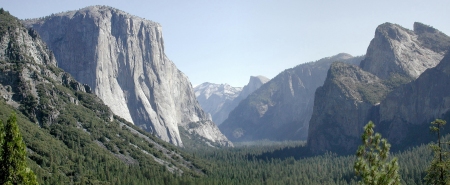 Another trip in early July 2006 gives yet another view...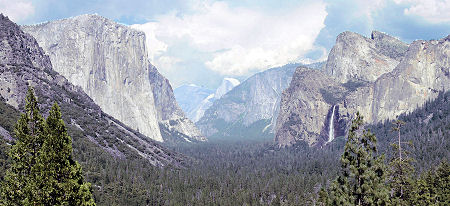 And, for comparison, the late 1930s...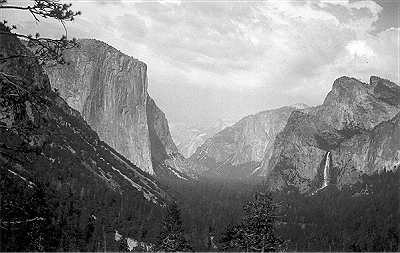 OK, that's a taste of Yosemite. Now, let's pretend that we've just entered the park at the south entrance and visit the Mariposa Grove of Trees.
---
Comments? Please use the contact page form.
Copyright © 2002-2006 Tom Simondi, All Rights Reserved