Mariposa Grove of Giant Sequoias
The Giant Sequoia is a cousin to the coastal redwood. While the redwoods are the world's tallest trees the Giant Sequoia is the largest tree by volume and the Mariposa Grove is the largest stand in Yosemite. These pictures are from my 1997 visit.
Viewing of these large trees begins in the parking area.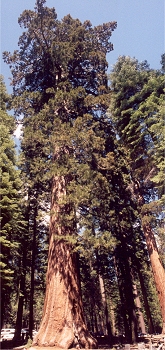 You can navigate the grove on foot (stay on the marked trails, the tree roots spread out along the ground and can be damaged by excessive foot traffic) or by a tram ride that circles the grove with stops along the way.
| | | |
| --- | --- | --- |
| | The highlight of the grove is the Grizzly Giant, not the tallest, but one of the largest Giant Sequoias in the world. And, its form certainly agrees with its name. The tree certainly is a giant and if you look at the base of the tree to the right you can see that it has the "grizzled" look of age and staying power through fires and other local disasters. | |
The Grizzly Giant was, of course, standing in the 1930s. You can see how it looked then in the picture to the left.

Interestingly, back then one of the trees had a drive-through cutout in it. On the right is a picture of my mother and grandmother on their car under this tree. It was popular as you can tell from the car behind them waiting it's turn to go through (and probably stop to take a picture).
OK, now let's take the hour-long drive back to the Yosemite Valley.
---
Comments? Please use the contact page form.
Copyright © 2002 Tom Simondi, All Rights Reserved