St. George
St. George was the winter home of Brigham Young. Winters in St. George are a good deal milder than those in northern Utah. While the origin of the name St. George is lost to history, one of the better stories involved George A. Smith, a first cousin to Joseph Smith. [Note: Documents obtained during the trip indicated he was a cousin to Brigham Young but this proved to be incorrect and has been corrected here.] He was called "The Potato Saint" because he advised pioneers to eat raw, unpeeled potatoes for scurvy (potatoes contain vitamin C). Thus the name "Saint George."
For visitors staying in the city, a walking tour will take you by all the various historical sites: Old Washington County Courthouse; Pioneer Museum (McQuarrie Memorial Hall); St. George Social Hall, Opera House, or Utah-Idaho Sugar Co.; Brigham Young's Winter Home; and a number more. The tour is about 12 blocks long.
Our bus tour made one stop at the most popular: Brigham Young's Winter Home.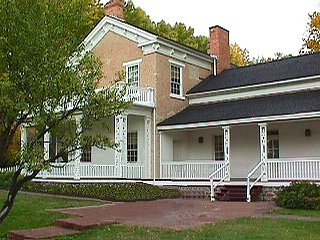 Brigham Young
Brigham Young was born June 1, 1801 in Whitingham, Vermont. As a youth he worked on his father's farm. When his mother died (he was 14) he apprenticed as a carpenter, cabinet maker, painter, and glazier; skills he would use later.
He had eleven days of formal schooling but was a natural student and observer. His mother taught him to read and he educated himself.
In 1832 at age 30 he accepted the Book of Mormon and was baptized into the Church. His devotion to the Church was the driving force for the rest of his life.
Prophet Joseph Smith was murdered by a mob at Carthage, Illinois in 1844 and Brigham Young took his place at the head of the Church. In the winter of 1846 he led the Latter-day Saints away from the mobs in Nauvoo. The thousands of people and wagons moved across the plains to Utah.
He established his Church in the Great Salt Lake Valley. He established coexistence with the Indians, became the territorial governor and ran the Church. Temple sites were dedicated by him but he only saw the St. George temple completed during his lifetime.
Brigham Young died in Salt Lake City, August 29, 1877.
---
Comments? Please use the contact page form.
Copyright © 2002 Tom Simondi, All Rights Reserved