Scotty's Castle: Inside
| | |
| --- | --- |
| | The Johnson's maintained a Spanish-Moorish theme throughout the castle. You can see some of that in the living room, part of which is pictured below. |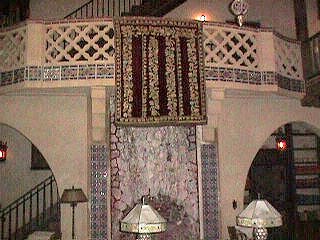 All the beams are hand carved, the balcony has tile inlays, and all curtains are leather, engraved with various designs. As an added decorative touch, the rockwork shown in the center of the picture is really a waterfall which helped keep the house cool during the hot summer days.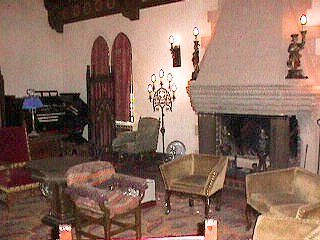 For the benefit of visitors, the annex (where visitors were housed) contained a full music room. The organ is connected to pipes opposite the fireplace and, as well, to a piano and the outside bell carillon. When guests arrived they were serenaded with their favorite songs being played on the bells. Oh yes, all of this was automatic and controlled by rolls of punched paper as neither the Johnson's nor Scotty could play the instruments.
The Johnson's quarters were equally well furnished as seen here in Mrs. Johnson's bed, which doubled as a writing stand. At this stand she wrote all the sermons she gave during Sunday services when they were in the valley.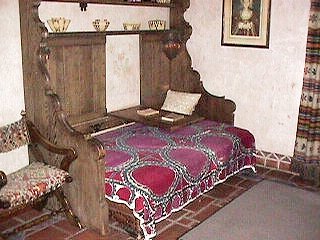 Let's conclude our visit now with some miscellaneous items...
---
Comments? Please use the contact page form.
Copyright © 2002 Tom Simondi, All Rights Reserved