Scotty's Life
| | |
| --- | --- |
| | Death Valley Scotty was born Walter Scott in Kentucky in 1872. Early in life he developed a wanderlust and ran away from home as a child to come to Nevada and join his brother on a ranch. |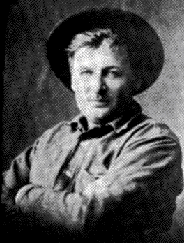 He worked at various jobs and fell in love with Death Valley. He sought, however, to travel some and, in 1890, was hired by a talent scout for Buffalo Bill Cody. Scotty joined the Wild West show.
He stayed with the show for twelve years and learned much that would serve him well in following years; particularly in his later business ventures (cons, to be honest).
Wanting to go back to Death Valley, Scotty became a "prospector." Basically, he convinced businessmen that he had a gold claim (he used gold that had been given to him) and that if they staked him he would split the profits; provided they front enough money to extract the ore. Since this required some time, Scotty was able to return and engage in legendary spending sprees before his patrons got tired of seeing no results and forced him to find new patrons...
...Until Scotty found Chicago insurance magnate Albert Johnson. The two were a contract in personalities (Johnson religious and Scotty rowdy) but Johnson believed in Scotty and gave him thousands of dollars over several years. Undaunted by the many calamities Scotty described, Johnson finally decided to take a personal look at the mine.
Scotty knew Johnson was sickly and took him on a grueling trek through the valley hoping to have him go back to Chicago early. But, Johnson fooled everyone. The dry, sunny climate improved his health and he fell in love with Death Valley.
Johnson did not mind there being no mine and took a great liking to Scotty. The two became lifelong friends and that friendship would result in "Scotty's" Castle.
---
Comments? Please use the contact page form.
Copyright © 2002 Tom Simondi, All Rights Reserved