Scotty's Castle: Endnotes
| | |
| --- | --- |
| | As the Great Depression ended, the Johnsons moved to Hollywood, but continued to visit the castle often. By then, the castle had actually become a popular hotel and tourist attraction due to Scotty's marketing skills. Thousands of tourists continued to believe they visited the home of a very rich gold miner; yet not one could point to the mine itself. |
The castle continued to evolve with the last project (never completed) being a fancy swimming pool, complete with viewports so people inside the home could watch swimmers in the pool.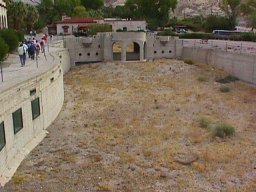 In the mid-1940s, the Johnsons died and willed the castle to the Gospel Foundation, a charitable organization. The Foundation tried to sell the castle to the government for $850,000 but times being what they were the government would not buy it. So, the Foundation continued to run the castle hotel and tours and took care of Scotty who lived the last two years of his life in the castle (most of his life Scotty did not actually live in the castle, but in a small house just over a hill on the property).
Scotty died in 1954 and is buried on a hill overlooking the castle. A trail leads up to the gravesite.

The Gospel Foundation again approached the government in 1970 and this time, for the same price proposed earlier, the National Park Service took over the protection and preservation of the castle.
Perhaps Death Valley Scotty had that in mind when he proclaimed:
The Hall of Fame is going up. We're building a Castle that will last at least a thousand years. As long as there's men on earth, likely, these walls will stand here.
OK, now that we've said goodbye to Scotty and while you're at the North end of the valley take the short trip over to the Ubehebe Crater.
---
Comments? Please use the contact page form.
Copyright © 2002 Tom Simondi, All Rights Reserved