Zabriskie Point
| | |
| --- | --- |
| | One of the most popular viewpoints in Death Valley is Zabriskie Point. It's located at about the north/south midpoint of the valley on Highway 190 near Furnace Creek. The point is named for Christian Brevoort Zabriskie, a borax mine superintendent. |

The badlands surrounding Zabriskie Point were formed as sediments deposited in a lake bed 5 to 10 million years ago. The view above is looking generally East with Highway 190 on the left. Turning around and looking West gives visitors coming in from the East their first view of the valley floor.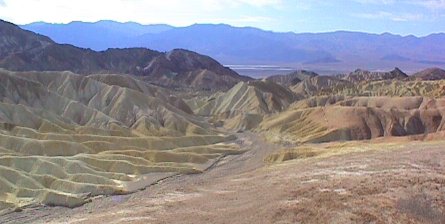 | | |
| --- | --- |
| Erosion and some volcanic activity has sculpted the area. One good example of this is seen in Manley Beacon, a high outcrop probably of volcanic origin. Manley Beacon was named in honor of William H. Manley, one of the guides of the ill-fated '49ers from the gold rush of 1849. | |
Still heading South now a short detour off the main road brings you to the Artists Palette...
---
Comments? Please use the contact page form.
Copyright © 2002 Tom Simondi, All Rights Reserved