Monterey
| | |
| --- | --- |
| | Monterey is the first state capital for California. It sits on the south end of a large bay carved into the coast south of San Francisco. |
The bay itself is a unique marine sanctuary and, while you can't see it from the surface, is very interesting to those who study the ocean as a deep canyon is just offshore. (The picture here is from the southern tip of the bay looking north across the bay.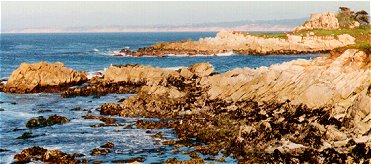 Juan Rodriguez Cabrillo sighted the bay in 1542 but could not land. Sixty years later Sebastian Vizcaino actually explored the bay and named it after the Count of Monte Rey, viceroy of Mexico.
The ocean has played a big part in the development of the Monterey area. First whaling was the major industry and then, in the 1920s sardine fishing led to the development of the entire Cannery Row area. Tourism has now replaced fishing and a major section of Cannery Row has been redeveloped into the Monterey Bay Aquarium.
A short distance away is Carmel and the Carmel Mission where Father Serra, the founder of the California missions, is buried. [I'm building a complete Web site about the missions. Please come visit.]
Before leaving the area, be certain to take a drive or walk along the shoreline just outside the city of Monterey. It is a spectacular coastline presenting beautiful views.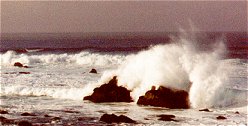 Visit the Monterey Bay Aquarium...
---
Comments? Please use the contact page form.
Copyright © 2002 Tom Simondi, All Rights Reserved