Bacon
There isn't much special about bacon except that many have trouble cooking it in a microwave. I experimented with a number of techniques before I found the following that seems to work for me.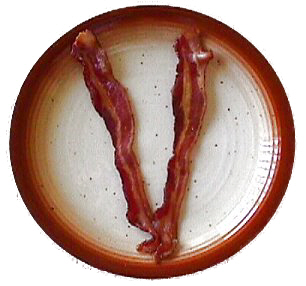 Ingredients:
Thick-sliced bacon
Good quality white paper towels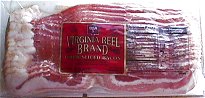 Directions:
On a platter, place one white paper towel (I've found that the bacon is much more likely to stick to the towel if there are designs on it or if it's a "generic" brand).
On the towel place the strips of bacon you want to cook. Lay them out individually without their touching.
Cover the bacon with a second paper towel.
Insert into the microwave and cook on high for a number of minutes equal to the number of strips plus one (e.g., four strips = five minutes). For two or less increase by only thirty seconds and for six or more increase by a minute and a half (play with it a bit as the exact time will depend on your microwave's power and the way it gets distributed around the cooking chamber). Peek under the top towel before removing the platter to check on doneness until you get the time down for your circumstances.
Remove the platter from the microwave and peel the top paper towel off the bacon immediately. As soon as possible, remove the bacon from the bottom towel. (If you've used a quality towel and thick bacon there will be less tendency for the bacon to stick.)
Lower Fat:
Sorry, but there basically no way to lower the fat content in bacon. If you are on a low-fat/high-fiber diet you basically have to give it up (or trim it carefully to just cook the meat portion and even then use very little.
Notes:
If you need to cook more bacon in the same session use a second platter and new paper towels. If you attempt to use the same platter the fact that it is warm and covered with grease will greatly alter the cooking time for the second batch.
---
Comments? Please use the contact page form.
Copyright © 2002 Tom Simondi, All Rights Reserved