Baked Apples
A relatively simple way to improve on the basic apple is to stuff it with brown sugar and raisins and then bake it until soft. Makes an excellent breakfast or dessert item. And, it gives you your "apple a day..."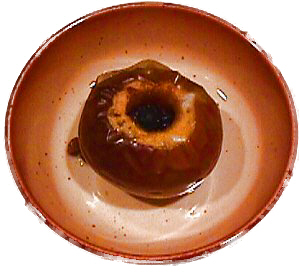 Ingredients:
Baking apples. (Rome Beauty is best, but you can probably use Jonagold, Stayman Winesap, or any other baking apple. Unfortunately, these were not availalbe at the store when this was done so a Fuji apple was tried. Wasn't bad, but one of the other baking apples would have been better.)

Brown sugar and raisins.

Directions:
Clean and core the apples with a coring tool. Lightly score the skin around the middle of each apple to keep them from exploding as they expand in the oven.

Place the apples into a baking dish and fill each hole with brown sugar and then cover with raisins. It's OK if the raisins spill over into the dish--indeed, you might like to have some extra. Add about a quarter of an inch of water into the bottom of the dish.

Bake uncovered in a 350 to 375-degree oven until done; about 30 to 45 minutes depending on the apple type and size. They are done when somewhat soft to a fork poked into the body on top.
Serve immediately or cool and serve later.
Lower Fat:
This recipe needs no adjustment for lower fat. Additionally, it's fairly high in fiber. You can reduce the sugar content if needed; there is enough sweetness in the recipe without it.
Notes:
A serving can be a whole apple or half an apple. Some like a bit of milk over the top in the serving dish.
The instructions talk about scoring the apple to prevent explosion. Here is one of the apples just cooked. Note how it has split at the score. Had the score not been there this could have been messy. As it is, the skin just bulged a bit.

---
Comments? Please use the contact page form.
Copyright © 2002 Tom Simondi, All Rights Reserved