Bread
Making bread doesn't have to be painful if you don't mind using a bread machine and a mix. After I got mine I went through the recipes that came with it and got all the various ingredients and made a number of loaves of bread "from scratch." Then, when walking around Costco (a warehouse store) I spotted a package of bread mix (just add water). Tried it and was hooked.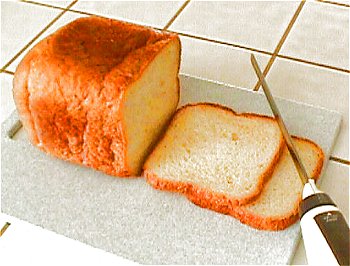 Ingredients:
Bread machine

Bread mix (I use Krusteaz in the six-pack; can't speak to other brands)

Directions:
The mix comes in packages with a separate package of yeast. Pick out the flavor you want.

Measure the amount of water indicated on the package (usually one cup). Place it in your microwave and microwave on high for one minute. Pour into bread maker.
Empty the bread mix into the bread maker.
Finally, empty the yeast package into the bread maker (try not to get it wet, particularly if you are not going to start making the bread immediately).
Start the bread maker according to the manufacturer's instructions (typically a cycle from ingredients to finished bread takes about four hours).
Remove from the bread maker and cool before cutting.

Lower Fat:
The Krusteaz bread mixes tend to be about 15% fat content so no adjustment needs to be made if you use that mix. Otherwise, if you use recipes from scratch you should try those with higher fiber wheat flour and watch the fats that you add.
Notes:
Shop around for the best price on the mix. I've noted that at the local markets a single-loaf package will cost over $2/loaf where the large six-pack bought at the warehouse store prices out to under $1/loaf (mid-1999 prices).
Don't be afraid to experiment. After watching a few loaves mixing you can get a feel for the consistency the dough should have. Add ingredients for flavor (a bit of cinnamon to white bread, for example) and maybe a little more liquid if needed.
---
Comments? Please use the contact page form.
Copyright © 2002 Tom Simondi, All Rights Reserved