Cabbage Lasagna
OK, I admit that the name is strange. I created this idea 21 May 2006; the inspiration was that I had a half a head of cabbage left from some slaw and wanted stuffed cabbage -- but the half-head leaves were not big enough to make the cabbage rolls. Thus, the idea to layer stuffing and some other things with softened flat cabbage leaves in a baking dish and building a form of lasagna.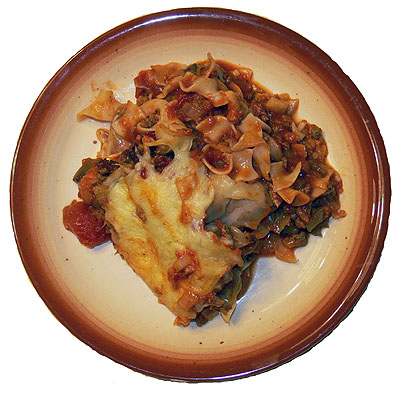 Ingredients:
Cabbage Leaves (enough to cover your baking dish twice)

Noodles (couple of handfulls)
Ground Turkey (1/4 pound)
Boca Burger Patty (1) [Note: Use extra ground turkey if you don't have or want to use Boca patties.]

Chopped Onion (1/4 to 1/2 cup)

Chopped Red Pepper (1/4 to 1/2 cup) [Optional]
Chopped mushrooms (1/4 to 1/2 cup canned or fresh)

Spices (garlic powder, Mrs. Dash, paprika) to taste

Spaghetti sauce (store-bought or home-made) (about 2 cups or so)
Grated cheese (I use Mozerella and/or grated Jarlsberg low fat cheese). Note: The Jarlsberg, shown here, will melt into a firmer mass then the Mozerella so you might use that if you don't like to have to use a knife to cut your melted cheese.

Directions:
You need to create three "pieces" and then assemble them into the whole before baking.
Item 1: Cabbage Leaves

Peel off the cabbage leaves. This is easier to do if you first cut out the core and then hold the cabbage under running water allowing the water to help you separate each leaf from the core outward. Do not try to pull off whole leaves from the outside; you'll end up with shreds. Hint: If you get some whole leaves save them for cabbage rolls.

Cut out the tough center rib from each leaf. That tough, thick rib does not taste good and it's hard to cook.

Put the cabbage leave pieces into boiling water to soften. It should take at least five minutes and maybe more; the leaves should be soft but not falling apart. A slotted spoon helps to drain the water.

Take out of the water and set aside. Save the water for the noodles.
Item 2: Filling

Heat the Boca Burger in the microwave (about 1 minute). Place it, the ground turkey, and the chopped onions, red pepper (if used), mushrooms, and spices into a large skillet. Add some olive oil and cook until the turkey is fully cooked, the vegetables softened, and all items are mixed together (you will have to break the Boca Burger apart into small pieces to work into the mix).

Take off the heat and set aside.
Item 3: Noodles

Cook the noodles in boiling water (you can use the same water you used to cook the cabbage leaves to save a pan). Cook according to package directions (about 10 minutes). Note: This uses regular noodles, NOT lasagna noodles. You can use the latter if you wish but I think they would be too heavy for this.
Assembly: When the noodles are done, assemble the dish.


Put a layer of spaghetti sauce on the bottom of the baking pan.
Cover with a layer of noodles.
Cover that with a layer of cabbage leaves
Cover that with a layer of filling.

Repeat the spaghetti sauce, noodles, cabbage, filling, and spaghetti sauce a second time on top of the first. You can even do a third layer if you like and are using a tall rather than wide baking dish.
Top with a layer of cheese (as much or as little as you like and fits your diet).

Cover and place in a 350-degree oven for 30 to 45 minutes (shorter baking dishes with larger area take 30 minutes; taller baking dishes with smaller area take a bit longer).
When done, let sit for a short time so the liquids get absorbed.

Serve and enjoy. Hint: Use a spatula to hold the dish down where you want to cut a portion and then use that as a guide for a sharp knife to cut through the cabbage leaf layers. If you don't then you'll likely find that the serving spoon will pull layers of cabbage out of other portions with the first serving.
Notes:
Feel free to reverse the layers if you wish (e.g., cabbage, noodles and then filling). You should, however, have spaghetti sauce on the bottom to keep things from sticking and filling on the top to cover with the sauce and cheese. The latter just looks better in my opinion.
---
Comments? Please use the contact page form.
Copyright © 2006-2008 Tom Simondi, All Rights Reserved