Chicken Prosciutto Rollup
This recipe is adapted from one I got a brief glimpse of on The Food Network. It's a rollup of a pounded chicken breast combined with a slice of prosciutto (an excellent, but expensive Italian ham), a layer of spinach, and a bit of cheese. This is browned, cooked in a chicken broth and served on a bed of pasta.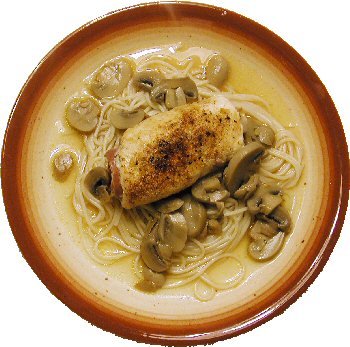 Ingredients:
Boned Large Chicken Breast (the amounts given here are for a single large breast; scale accordingly)

One piece of Proscuitto for each piece of chicken (one breast usually makes three pieces of chicken). It usually comes as very thin slices packaged with paper between the slices. Expect to pay around $5 for a quarter pound (around six slices).

One third of a package of frozen chopped spinach

One can of chicken stock/broth (unless you add several chicken breasts you don't have to increase the stock or mushrooms for additional servings)

One small can of mushroom slices and pieces

Parmesan Cheese

Spices (garlic powder, Mrs. Dash, Paprika)

Pasta (I like Angel Hair but most any will do)

Directions:
Cook the spinach (four minutes in a covered Corningware dish in the microwave does it for me). Drain/squeeze out all of the water (be careful, it will be very hot) and set aside.

Slice the chicken breast into thin slices (much like making Chicken Marsala). Each large breast should make about three slices around a quarter inch thick.

Pound each of the chicken slices thin enough so it will be easy to roll up (about an eighth of an inch thick)

On each piece of chicken place one slice of Proshiutto, spread one third (if you have three pieces) of the spinach, top with a layer of Parmesan cheese.

Carefully roll up each piece of chicken into a tight roll (roll down the length of the slice, not across the width). Fasten each roll with two toothpicks or, if you prefer, tie with twine. Sprinkle each piece with a shake or two of the spices to your taste.

Get the pasta water ready so everything will be done at the same time.
In a large skillet that can be covered brown the chicken rollups on all sides (use olive oil if you like).

When browned sufficiently, put the can of chicken stock and the can of mushrooms (drained first) into the skillet. Bring to a boil and cover. Keep a rolling boil while cooking. Dump the pasta into the boiling pasta water when the chicken comes to a boil and set the timer for ten minutes.

After five minutes turn the chicken rolls over. After another two minutes (three minutes remaining) remove the cover from the pan so the stock reduces some. You will likely have to increase the heat to keep the stock boiling when the cover comes off.

After ten minutes, everything is done. Drain the pasta and dish. Place one of the chicken rollups on each bed of pasta. Spoon some of the stock and mushrooms over the dish and serve.
Lower Fat:
This is one case where you might want to just splurge and keep the fat content, most of which is in the Prosciutto. You could substitute a low-fat ham but it just won't taste the same! Prosciutto is so good you have to have some now and again (and, at $20/pound you have an incentive to keep the use low).
Brown in a non-stick skillet without the oil.
Use a lower-fat cheese and/or remove the cheese entirely.
Notes:
For a different presentation, slice each rollup and spread the slices out so the different layers can be seen.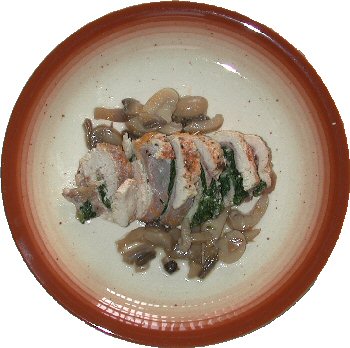 ---
Comments? Please use the contact page form.
Copyright © 2004 Tom Simondi, All Rights Reserved