Chinese Chicken Salad
This is another recipe where I cheat by using a pre-made package. But, this one is the best I've found and beats making this salad from scratch by a long margin. It's a quick meal that can be kept in the refrigerator for about three weeks and frozen for longer periods and then pulled out and used when time is short.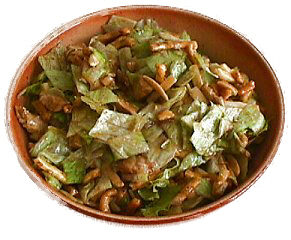 Ingredients:
Chinese Chicken Salad Kit (one set of ingredients--noodles, almonds, sesame dressing and cut chicken)

Cut lettuce as needed

Directions:
Basically, put everything into a big bowl and toss together until mixed. My preference is to break up the noodles into a smaller size (just hit the package a few times before opening it) and to cut the chicken pieces into smaller bite-sized pieces.

Lower Fat:
I have not had this since starting the lower fat diet so cannot comment at this time. It's largely going to come down to the contents of the dressing packet and, perhaps, how the noodles were prepared.
Notes:
Each Chinese Chicken Salad Kit contains two sets of ingredients (noodles, almonds, sesame dressing and cut chicken). For us, one set of ingredients makes a full meal for two. Adjust accordingly for your appetite or if you are using this as part of a meal instead of a full meal.
In our area the kits are only available at Costco. If you can't find them locally, contact the manufacturer for distributor information: Don Lee Farms, Inglewood, CA 90302 USA.
---
Comments? Please use the contact page form.
Copyright © 2002 Tom Simondi, All Rights Reserved