Chicken Cacciatore (Chicken, Hunter's Style)
Basically, chicken cacciatore is a hunter's stew so expect it to have a liquid base making serving over rice or noodles a good complement.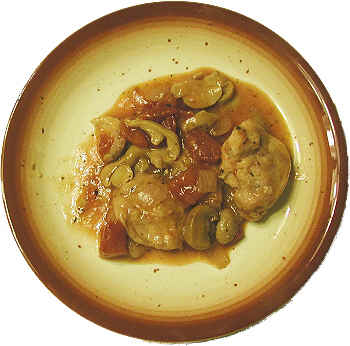 Ingredients:
Chicken (six boneless/skinless thighs used in this making but, use most anything)

Canned tomatoes (Italian-flavored stewed tomatoes are a good pick), White Wine

Canned mushrooms (yes, canned; it's easier)

Spices (Garlic, Mrs. Dash, Paprika). flour

Onion, Bell Pepper (or maybe Ortega canned pepper)

Directions:
Clean chicken and wash. Cut into small pieces.
Chop onion and pepper.
Mix spices with flour (I use a plastic bag). Pat chicken dry and coat with flour mixture.

Fry chicken until brown (about 10 minutes or so). Use a large enough skillet the chicken can lay out in a single layer. Using a non-stick skillet is best.

Push aside chicken and add onions and peppers. Fry until onion is no longer opaque (short time).

Add tomatoes and wine. Bring to boil and turn down to simmer.

Cover and cook for 40 minutes. Stir once or twice during cooking.
Add mushrooms. Return cover and cook another 15 minutes.
When done the chicken should be falling apart and falling off the bones (if you used chicken with bones).

Serve standalone or over rice/noodles.
Lower Fat:
Chicken is a fairly low-fat meat so long as the skin has been removed so make certain that's the case before cooking. Instead of using quantities of oil for the cooking a light spray of olive oil should suffice. You can lower the fat further by taking the chicken and veggies out of the skillet after they are done. Put these on a paper towel to drain and wipe out the skillet before continuing.
Notes:
This is a simplification of an old family recipe. The use of flavored, canned tomatoes and canned mushrooms makes this an easy recipe. You could, of course, do it the hard way and prepare with fresh but you'll have to adjust the times and ingredients accordingly.
---
Comments? Please use the contact page form.
Copyright © 2002 Tom Simondi, All Rights Reserved