Chicken Strips
I used to fry chicken strips on the top of the stove like most people but I'm basically lazy and the cleanup was no fun. Then I discovered how to do them in the oven...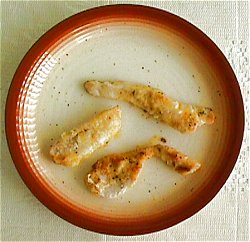 Ingredients:
Chicken strips (washed)

Spices to taste (garlic powder, paprika, Mrs. Dash and parsley flakes are my preference)

Butter/margarine for cooking
Directions:
Preheat oven to 425-degrees.
In a plastic bag add some Bisquick and the spices (you could use flour but Bisquick is lighter and has added ingredients that seem to make it better).

Shake each chicken strip individually in the coating mixture. Make certain each piece is completely covered.

In a baking dish place a large pat of butter/margarine. Place this dish in the oven to preheat it and completely melt the butter/margarine.

When the butter/margarine and baking dish are heated remove from the oven and place the chicken strips into the dish. Ideally, the dish should be hot enough to start browning the chicken; but I tend to rush it as I get really hungry about this point.

Bake in the oven for seven (7) minutes. Remove and turn the chicken strips over. Bake for another seven (7) minutes.

Remove and serve. The extra butter/margarine makes a nice dressing over most anything you serve with this entree.
Lower Fat:
Clearly, the majority of the fat content in this recipe is in how the chicken is cooked. Basically, substitute a light spray of olive oil or canola oil for the butter. For maximum health use flaxseed oil (high in omega fatty acids). Don't expect the chicken to brown nearly as well to taste quite as rich. Adjusting the spices can help; and keep watch over the pieces; you may have to reduce the time a bit to keep them from drying out (a little overcooking didn't hurt much when butter was used but will when it's not used).
Notes:
While this recipe is for chicken strips by varying the time you can oven fry chicken breasts or most any chicken pieces (although you may have to turn some pieces like legs more than once to brown all sides).
With a self-cleaning oven, this recipe saves a great deal of stovetop cleaning!
---
Comments? Please use the contact page form.
Copyright © 2002 Tom Simondi, All Rights Reserved