Pounded Pork Chop
If you need a new way to cook pork chops fast here it is. The preparation takes longer than the cooking time.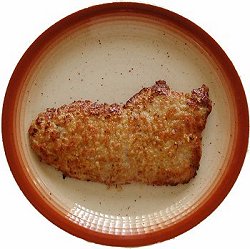 Ingredients:
Boneless pork chop(s) [I use thick chops from Costco and one makes two servings.]

Spices (Garlic, Mrs. Dash, Paprika)

One egg and cracker crumbs

Directions:
If using a thick pork chop, cut through the thick part to make two. You want your pork meat to be no more than a half inch thick, and thinner if possible.

Use a piece of plastic wrap to surround the pork. Place it on a board and place the board on a sturdy surface. Use a board you don't mind being marked as it might be by the hammer.

Now, have fun. Take out your aggressions on the pork and pound it thin (less than an eighth of an inch). It should have at least doubled in area.

Beat the egg and spices to create an egg wash. Place that in a bowl next to a sheet of plastic wrap or waxed paper with cracker crumbs on it. Take each piece of meat and drag it through the egg wash and then coat with cracker crumbs. Set aside.

When the meat is all coated, heat a skillet with some butter/margarine. Fry each piece of meat until golden brown on both sides and cooked through. Because the meat is thin this should take no more than about three to four minutes on a side.

Lower Fat:
This is another recipe that you basically have to give up if you want to stay on a low-fat/high-fiber diet. While you can get pork that is lower in fat, the fats are largely still saturated; the worst kind.
Notes:
This is another quick meal that is relatively easy to prepare. You could do the same thing to a tough piece of beef or even chicken.
---
Comments? Please use the contact page form.
Copyright © 2002 Tom Simondi, All Rights Reserved