Rotisserie Chicken
This particular "recipe" is probably the easiest of all here. Just go to your local store and buy one! (There's more below; trust me.)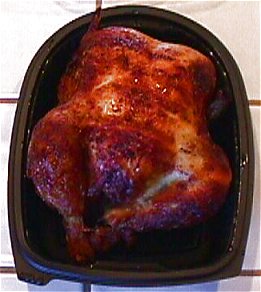 Ingredients:
Store-purchased cooked chicken. I prefer the chickens found at our local Costco store; they are larger and taste better. Many grocery stores also now have cooked chickens--some with various flavors. My preference is to avoid the flavored chickens because I use the meat in various ways and any flavors added might conflict with the current project. Shop around and find the best source in your area. These chickens are very versatile.
Directions:
As soon as you get the chicken home you will either need to serve it or store it. My preference is to immediately remove the meat from the bones. This makes it easy to either serve or store.
If you need a tool to help you, probably the best is a pair of kitchen scissors. Generally, I just get things ready and then use my hands to do the work.

When you are done you have a plate of white and dark meat suitable for serving...

...and a plate of bones and skin. Depending on what you want to do you can either throw this out or use it as a base for soup. If you are saving it, just throw it in a plastic bag and into the freezer. (Don't forget the wishbone--leave it out to dry and then make a wish with someone!)

Lower Fat:
Make certain that all the skin is removed from the chicken before taking the meat off the bones.
If you do use the remains for soup or stock be certain to let it cool and skim the fat completely from the liquid before using.
Notes:
If not using immediately, I strongly recommend that when you take the meat off the bone you lay it out on a plate as shown above instead of dropping it directly into a storage container. This allows the chicken pieces to come to room temperature rather quickly as you are working. After you have the chicken cleaned you can cover the plate with plastic wrap and put the plate into the refrigerator for a short time to cool the chicken down. Once cool, then put into a storage container. If you just use the storage container the bottom and innermost pieces of chicken tend to take much longer to cool down in the refrigerator with the possibility of bacteria buildup. Better to have an extra dish to wash than a trip to the doctor.
By all means try using your hands to strip the meat from the bones; they will thank you. The chicken fat will make them soft for several hours to a day or more.
After you've eaten for a day or two off the chicken, store the remainder in serving-sized packages in the freezer. This is how I get the meat for such things as my Italian Stew and Ravioli (and other things). It's particularly handy to have around.
---
Comments? Please use the contact page form.
Copyright © 2002 Tom Simondi, All Rights Reserved