Beef Stew
I've only just experimented once with this one so I have no pictures yet. But, it came out well enough to include the recipe now and get pictures the next time I make it.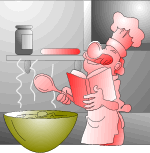 Ingredients:
Lean beef stew meat (about 1.5 pounds cut into 1-inch cubes)
Flour to coat beef
Spices to taste (salt, pepper, garlic powder, onion powder, paprika)
Olive oil for browning beef
Can of low-fat beef broth (14 oz. or so soup can)
Baby carrots (about half pound)
Onion (1 medium chunk chopped)
Potatos (about half pound cut into 1-inch cubes)
Frozen peas (half cup)
White wine (about half cup)
Directions:
Combine the flour and spices in a plastic bag. Add the meat and toss to coat well.
Heat the oil in a large pot (medium-high). Add the meat and brown all sides well. Remove the meat from the pot.
Saute the onion in the pot until just transparent (don't burn it -- just about two minutes or so).
Add the broth and return the meat to the pot.
Bring the mixture to a boil, cover, lower the heat and simmer for 30 minutes.
Stir in the carrots and potatos and add wine to bring the mixture back to a more liquid state.
Cover and continue cooking for 15 to 20 minutes or until the potatos are tender.
Add the peas and cook until everything is heated through.
Serve.
Lower Fat:
Since beef contains a relatively high percentage of saturated fat, it's hard to have healthy "beef" stew. I'll be experimenting with this one using something like eggplant in place of the beef and will report the results.
Notes:
This is a recipe you can experiment with. It's easy enough to make and changing the ingredients are a good way to experiment (e.g., change from white to red wine to change the taste completely -- you may have to add a bit of sugar if you do that to counter the acid in the red wine).
We got two meals out of this recipe and the mixture kept well and reheated in the microwave the next day.
---
Comments? Please use the contact page form.
Copyright © 2002 Tom Simondi, All Rights Reserved