Tacos
When tacos come up most people think of those small crunchy things the fast-food folks put out. While I can do those I prefer a more eclectic form; and, this particular recipe will show how you can really bend the traditional in cooking. (This is closer to a tostada if you're going to be fussy.)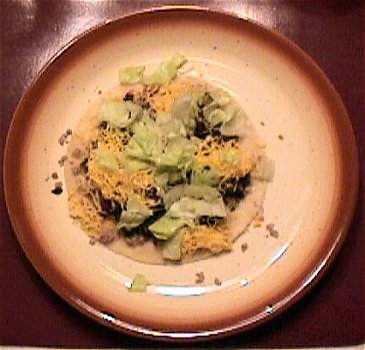 Ingredients:
Corn tortillas

Meat (I usually use ground turkey or hamburger but, today, I had leftover lamb and ground it up for the tacos)

Kidney beans, Salsa, Chopped olives

Chopped onions, Grated cheese, Chopped lettuce

Directions:
First, just a note. I've tried crisp tortillas, soft flour tortillas, soft corn tortillas, and packaged already-formed tortillas to make tacos. Right now, I prefer soft corn tortillas laid flat on the plate. Your mileage may vary and any method you choose will work. That's the beauty of tacos; they can be just about anything you want!
First, prepare all the ingredients. For the most part this is opening cans and jars, heating some things, and chopping/grating some things. Start with the beans and get them heating (be certain to use low heat and come back to stir them).
Now open the olives and set them into a dish.
Grate the cheese (see above), chop the onion, and chop the lettuce. Set these all on the table in dishes along with the salsa. (Time to stir the beans.)
Prepare the meat. If ground turkey/hamburger, fry it and drain the grease. If using leftover meat as I was, grind it (see above) and heat it briefly in a skillet. (Stir the beans again.)
Finally, prepare the tortillas. Using just a little oil in a skillet quickly fry each tortilla just enough on each side to heat it and get it soft. Take the tortilla out of the skillet and place on a paper towel to dab off the grease. Too little and the tortilla won't be done; too much and it will be hard instead of soft.

Put everything on the table and assemble tacos. The way I do it...

Place a tortilla on the plate.
Smear on some salsa.
Cover with a coating of meat.
Add a coating of chopped olives.
Throw on some chopped onions and kidney beans.
Add a coating of grated cheese.
Top with a coating of chopped lettuce.
Eat. With a soft tortilla you can fold it over and eat it by hand like the "traditional" taco or you can eat it with a knife and fork. However you do it, enjoy.
Lower Fat:
Use low-fat turkey meat (or chicken left over from the Rotisserie Chicken) to lower the fat content. I've also tried some salmon as the meat and found it a great way to get a serving of fish (put a small skinless salmon steak in a microwave-safe container with a lid, spice and zap until done [2-3 minutes usually], shred and use for the taco meat).
Eliminate the cheese or use a low-fat or non-fat cheese (the non-fat cheese tends to be dry and non particularly tasty)
Heat the tortillas by wrapping them in a moist paper towel and putting them in a microwave for a minute or so on high. This will make them warm and soft; a different texture, however, from those that you would fry in oil. You'll have to get used to that. Load on the salsa to help.
Note: When in a restaurant, ordering a chicken taco, hold the cheese, is a good way to get a fairly low fat meal with little trouble. If they serve rice and beans with the taco consider asking for all rice and no beans as some refried beans contain lard; all contain some fat.
Notes:
If you really like hard shells in the classic folded form, you can make them by hand frying the tortilla in hot oil, but for consistent results you might want to locate a taco forming tool and drying rack. You clip the tortilla to the forming tool and then use it to hold the tortilla in hot oil, turning as necessary to form the shell and leaving it in the oil long enough to become hard. The tortilla can then be moved onto the drying rack where the rack shape keeps its form. If you want you can even fill them on the rack. (Told you I've tried them all ways.) Note: Please don't ask where to buy these items. I got them a long time ago and have no current source for them. [OK, four years latera reader has provided at least one source here.]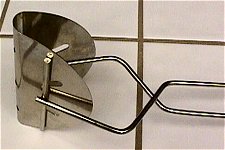 ---
Comments? Please use the contact page form.
Copyright © 2002-2008 Tom Simondi, All Rights Reserved