Stirfry
This is one of the more flexible recipes in this collection. It can be used with most any type of meat, fish, or no meat at all and still be quite tasty and easy to fix. You can also vary the vegetable ingredients and spices widely and still produce an excellent dish. Serve it right out of the wok as I like it or over rice.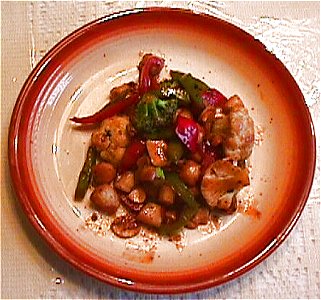 Ingredients:
(Listed are for meal pictured above; vary as needed.)
Scallops (about 1/3 pound small - vary as needed)

Various vegetables cut into small pieces (included here are red onions, green and red bell peppers, broccoli, cauliflower, and mushrooms; we often also include thinly-sliced zucchini but it was not available today)

Secret sauce (OK - Hoisin sauce, garlic powder, and Mrs. Dash)

Directions:
Place a small amount of oil into a hot wok (I use an electric wok set at 350 degrees). First cook the meat (scallops). Cook until done but do not overcook; particularly scallops or shrimp as the meat will become tough. When cooked, take the meat out of the wok and set aside.

In turn, cook the vegetables and set aside. Use the oil left over from the meat to first do the peppers and onions, then cook the broccoli and cauliflower, and finally the mushrooms. At each stage up to the mushrooms take the vegetables out of the wok and set them aside with the meat when done. Use the oil from the meat until it is used up (usually at the broccoli and cauliflower stage). If the wok gets dry don't add more oil as this will make the meal oily; use dashes of water instead. This allows the vegetables to soften with steam. Just a dash at a time, however and let the wok dry before adding more. Be particularly careful adding water to the mushrooms as they contain so much water already.

When the mushrooms are done, add the secret sauce and mix well. Then add the reserved cooked ingredients and mix to coat everything with the sauce. Heat through and serve immediately.

Lower Fat:
Use skinless chicken or seafood (scallops/shrimp) if you use meat at all in order to reduce fat. Use a non-stick cooking surface and only a spray of olive or canola oil for the meat. Use the water trick described above for everything else.
Notes:
As mentioned above, this recipe is extremely flexible. Use different meats (even in combination) or no meat at all. Vary the amounts of the vegetables to compensate for those that might be less expensive at the time you have the meal. If you like more of one or another (or can't stand one or another) by all means add or subtract as desired.
If you want to add a bit of a gloss to the surface for appearance, you can mix up a small amount of corn starch and water into a paste and mix this in at the last minute. The corn starch will coat everything and give it a bit of a gloss.
---
Comments? Please use the contact page form.
Copyright © 2002 Tom Simondi, All Rights Reserved