Spaghetti With Clam Sauce
Don't know what to have for supper? Want something quick but good? The sauce for this spaghetti can be cooked up while the spaghetti itself is cooking; it takes about 10 minutes from getting the ingredients together to finished dinner. Throw in a salad and you're done.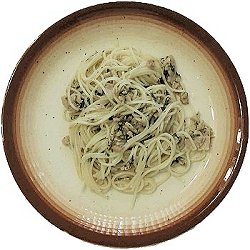 Ingredients:
Spaghetti (I prefer angel hair; use what you like)

Can of chopped clams

Spices (Garlic, Parsley, Italian Mix) and White Wine

Directions:
Start a pot of boiling water for the pasta. Line up all the other ingredients. Add a bit of olive oil to the water for taste and to help keep the pasta from sticking. When the water is boiling, add the pasta. Stir now and again while cooking. Store pasta usually takes between 8 and 12 minutes depending on size and thickness.
As soon as the pasta is in, put some olive oil in a skillet and heat. Add the spices to the oil. Open the can of clams (do not drain the liquid and leave the lid slightly attached to the can). Using the can lid to hold back the clams pour the clam juice from the can into the skillet. Allow the mixture to heat for about three (3) minutes.
When hot and boiling, add the clams. Use about one quarter cup of the wine to rinse out the clam can and get all the little morsels stuck to the sides out. Add this to the mixture. Simmer this total for about five (5) minutes.

When the pasta is done, drain and toss with the clam sauce. Serve immediately.
Lower Fat:
Watch the oil, otherwise the recipe is good as is.
Notes:
You could easily modify this recipe with ham pieces or the like depending on taste. Just make certain you increase the liquid accordingly as those won't have the clam juice associated with them.
---
Comments? Please use the contact page form.
Copyright © 2002 Tom Simondi, All Rights Reserved