Spaghetti Squash
Spaghetti squash is known as "the fun squash" because it's so different from any other type of squash you are going to cook. There are also so many different things you can do with it. This is a basic preparation. Other ideas are in the notes.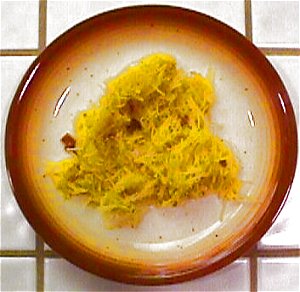 Ingredients:
Spaghetti squash. The one pictured here was about 2.5 pounds and was the smallest in the store. It's very filling.

Spices, olive oil, and bacon as desired.

Directions:
Cut the squash in half and carefully remove the seeds. You might want to use a kitchen scissors to cut around the edge because you don't want to dig into the squash itself (which is easy to do).

Turn upside down in a baking pan. Bake at 375-degrees until the inside is somewhat soft (about 45 minutes for this sized squash).

Let cool until the squash can be handled and then carefully remove the inside of the squash. They will come out in threads that look and act much like cooked spaghetti (thus, the name). There will be a much larger volume of strands than you think!

Cook several pieces of bacon very crisp and chop into bacon bits.
In a skillet, heat some olive oil and/or butter. Add the spaghetti squash threads. Toss with spices as desired and the bacon bits. Heat through.

Lower Fat:
I don't cook this very often, but will likely try something different like treating the threads like spaghetti and use a tomato-based sauce instead of the bacon and olive oil/butter suggested above.
Notes:
Treat the spaghetti squash threads just like spaghetti. Use them in most any recipe where you have spaghetti. Covered with spaghetti sauce and cheese makes a nice diversion.
Mix the threads with a cheese mixture and heat through for a different presentation.
If you want to get creative with presentation, serve in the empty shells.
And, so forth; use your imagination...
---
Comments? Please use the contact page form.
Copyright © 2007 Tom Simondi, All Rights Reserved