Stuffed Mushrooms
This is a fairly easy "go with" for any number of dishes. With smaller mushrooms this can also be used as an appetizer or finger-food snack (most recipes use egg as a moistener but I use olive oil so it might be a bit oily for fingers).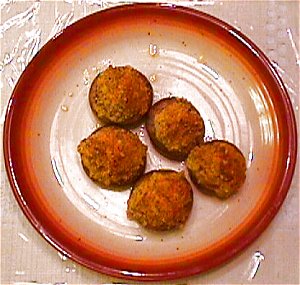 Ingredients:
Mushrooms. Pick out well-formed mushrooms with a small to medium stem.

Spices (I use garlic, Mrs. Dash, and Italian spice mix) and a bit of onion.

Parmesan cheese, grated cheese (I use cheddar for a different taste), cracker crumbs (I keep some on hand in a jar in the refrigerator).

Olive oil (pick a good brand of extra virgin oil for taste)

Directions:
Clean the mushrooms (I wash them; some just rub them clean). Pop out the stems to leave a nice clean cap. Set the caps aside in a lightly greased oven pan (some oil will leak out while cooking so make certain the pan has sides all around).

Chop the stems and a bit of onion. Chop them fine.

Using olive oil sauté the chopped mushroom stems and onion. Sauté until soft.
In a mixing bowl, mix up a generous amount of parmesan cheese, spices to taste, the cheddar cheese, the sautéed stems and onion (along with the oil). Add cracker crumbs and more oil until the mixture can be molded with your hands and tends to stick together. You'll have to experiment a bit here to find the exact mix. The key is getting it to stick together.
Divide up the mixture and place it into each of the mushroom caps. Fill each cap, pressing down to make certain the mixture fills all the nooks and crannies.

Bake at 350-degrees for 30 minutes. You want to make certain everything is hot clear through and the cheese melted. Serve hot.
Lower Fat:
I'm going to have to completely redo this recipe to make it lower in fat. Stay tuned.
Notes:
For a small number of stuffed mushrooms you can just as easily use a toaster oven (as I did for this write-up) and save some energy.
Many recipes use egg instead of olive oil as it enhances the binding of the materials.
This is a fairly flexible recipe. Change the type of cheese; change the spices; add some chopped ham or other meat. You just have to adjust the crumbs and oil mix to get everything to hold together for stuffing.
---
Comments? Please use the contact page form.
Copyright © 2002 Tom Simondi, All Rights Reserved