Tomato Shrimp Soup
This is a spicy recipe adapted from a magazine (but I forget which one but the recipe ultimately was adapted from the book Half-Scratch Magic). It's one of the few recipes where you'll find some exact specifications for ingredients; though you are free to change those if you wish. A large bowl of this soup with a chunk of fresh bread is a full meal.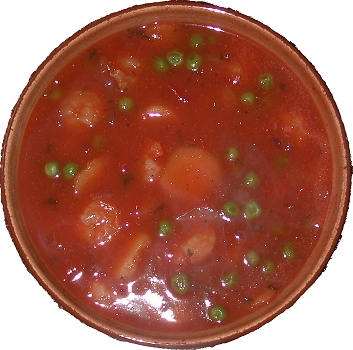 Ingredients:
One can of Progresso Hearty Tomato Soup (I won't use other brands; your taste may vary)

One third pound of shrimp (raw or pre-cooked). Either way, make certain they are cleaned and deveined. Buy bite-sized shrimp or plan on cutting larger shrimp to bite sized. Shown here are pre-cooked shrimp from the grocer (they happened to be on sale).

One can of sliced water chestnuts, one half cup of frozen peas, and one cup chopped red onion.

Spices (garlic or garlic powder, toasted sesame oil, Tabasco Sauce, and pepper)

Wine, as needed

Directions:
In a pan that will hold at least three times the amount of liquid in the soup can place a small amount of olive oil and saute the onions over medium heat until semi-transparent; about three to five minutes should do it. (The larger pan helps control the splatter.)

Add the soup (be careful, you're adding liquid to hot oil [however small the amount] so it will splatter some). Watch your eyes. Rinse the can out with about a quarter can of wine and add that to the soup. Add the other ingredients. Use spices to taste; I use four shakes of Tabasco and three of Sesame Oil with lots of garlic powder and pepper. Your tastes may vary.

Bring the whole to a boil. Reduce heat and cook long enough to either warm everything through and/or cook the shrimp (if you used raw instead of pre-cooked). In either case five minutes or so should be enough. If raw, the shrimp are cooked when they turn pink.

Ladle into bowls and serve.
Lower Fat:
This is a low fat meal as shown. Just be careful what you eat with it and remember even though olive oil is a "good" fat it's still a fat with calories so use just a small amount.
Notes:
The "heat" of this dish comes from a combination of the cooking heat, the Tabasco Sauce, the pepper, and the strength of the onions used. You'll likely have to adjust things on a day-to-day basis depending strength of the onions.
If you have no other uses for sesame oil, you can consider that ingredient optional. You will, however, have a soup that tastes a little less Asian.
Don't be afraid to add things to this soup. While I have not yet tried this, I suspect that throwing some cut up mushrooms into the pot while the onions are cooking would be a nice addition. Some added wine might be necessary to keep the consistency correct if you do this as mushrooms can be like little sponges.
---
Comments? Please use the contact page form.
Copyright © 2003 Tom Simondi, All Rights Reserved