Bean/Onion Casserole Side Dish
This is a side dish, not the main course. If you like pork and beans you'll love this modification to a can of beans.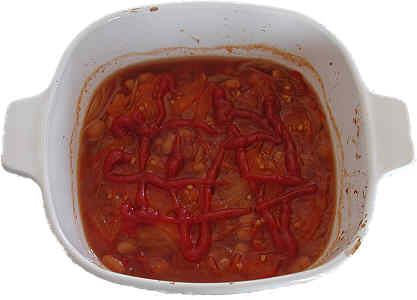 Ingredients:
Small can of pork and beans

Tomato and Onion

Brown Sugar and Ketchup

Directions:
Thinly slice both the onion and tomato. The dish is better if you peel the tomato first but it's not absolutely necessary. The thin slices are the key.

For a standard 15oz can of pork and beans pick a quart and a half baking dish; use a bigger dish for larger can sizes. Place a third of the can of pork and beans on the bottom of the dish (it's a thin layer).

Layer on top of that in turn a layer of onions, tomatoes, brown sugar, and ketchup.


Repeat this layering process of beans, onions. tomatoes, brown sugar, and ketchup two more times until you've used up the can of beans and, depending on the size, the tomato and about half of the onion. The ketchup layers will , to some extent, control how liquid the dish is so don't put too much on unless you like your beans swimming.

Bake the dish in a 350-degree oven for an hour (longer if the dish is larger). If you like your beans with lots of liquid cover the dish; if not leave it uncovered (or half and half; you'll have to experiment some for your tastes).
Lower Fat:
Substitute regular baked beans for the pork and beans combination. Read the label for the nutritional analysis. Basically, what you are looking for would be a can of beans where the fat calories were 20% or less of the total calories (divide total calories by ten and multiply by two then compare with the fat calories) and a low saturated fat number.
If necessary, you can reduce or even eliminate the sugar from this recipe. It won't be as good but will help in insulin control.
Consider using a low-salt ketchup if salt needs control in your diet (or eliminate it--it's just used for flavor).
Notes:
As mentioned above, you control the moisture in this dish through the amount of ketchup you use and whether you bake covered or uncovered. Since you can't really overcook this dish (unless you cook it dry and burn it) you can also control moisture by length of time in the oven.
This dish is good at a potluck supper. It can be served warm or even cold (it's better warm) and can be easily rewarmed if necessary.
You can turn this into a main dish by adding sliced hot dogs or other such additions. Use your tastes and experiment some.
---
Comments? Please use the contact page form.
Copyright © 2002 Tom Simondi, All Rights Reserved