Baked Onion
This recipe produces a great side dish to go with just about anything. It's quick and easy but the result is a tasty addition.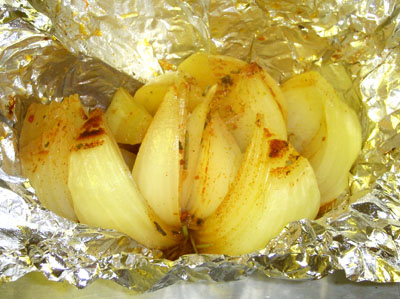 Ingredients:
This ingredient list is quite short and really needs no pictures but I put on in anyhow...
Onion

Directions:
Skin the onion leaving the root end intact. Take about half an inch off the top, stem end.

With the root end down cut through the onion from the top down leaving about a half inch of the onion attached to the root end (don't cut through to the root -- leave a half inch -- the onion should look a bit like a flower). Depending on the size of the onion make cuts to make six to twelve leaves.

Place the onion on a square of foil and the sprinkle with spices to suit your taste (I typically use a Mrs. Dash mixture, some rosemary, oregano, and paprika). Top with a pat or two of butter.

Fold up the foil around the onion and place in a pan for baking. Do use a pan as the foil might leak as juice builds up inside and maybe seeps out the top of the foil.

Bake at 425-degrees for about 30 minutes.
Remove from the oven and serve. Depending on the rest of the meal you can serve quarters or half of one onion as a side dish.
Lower Fat:
Instead of butter, use a more balanced fat spread but, overall, the dish is naturally low in fats.
Notes:
For a bit more decoration put the onion out in a serving dish as it looks rather like a flower.
---
Comments? Please use the contact page form.
Copyright © 2009 Tom Simondi, All Rights Reserved