Seafood Newburg (Sort of)
I say "sort of" for this recipe because it's a quick recipe that tastes great but is nothing like the original newburg recipe with all its heavy cream, cream cheese, and the like. And, keep in mind that I say "seafood" but this is a catchall. You can use the imitation crab flakes I describe, shrimp, scallops, or most any seafood combination you like. I've made this a couple of times but never with my camera handy. So, yet another I'll have to try to remember to update with pictures later.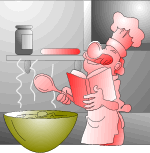 Ingredients
Pasta (use wide noodles, broken spaghetti, or any other pasta you have around). You'll need about half as much as you'd normally cook for a spaghetti meal.
Quarter to a third of a cup of chopped onions.
Can of Cream of Mushroom soup.
Half a soup can of Milk.
Dash of wine (Sherry is good but Chablis works as well as most any white wine).
Mrs Dash or other non-salt spice combination.
Package (8 oz) of Imitation Crab flakes cut into small pieces.
Half to 3/4 cup of frozen peas.
Directions
In the background cook the pasta.
In a large skillet, over medium heat fry the onions a short time to soften them.
If the seafood needs to be cooked (e.g., shrimp or scallops) add that to the skillet and cook until done.
Add the can of soup, the milk, the wine, the spices (three to four shakes of Mrs Dash or so), the peas, and, if not already in the skillet, the crab flakes.
Stir while cooking until heated completely through and the peas are cooked.
Drain the pasta and stir into the skillet mixture.
Serve.
Lower Fat
Use low fat Cream of Mushroom soup.
Use low fat or skim milk.
Notes
With ingredients on hand, this is a quick seafood meal in one. It takes virtually no time to make but can be served to company if needed. While it stands alone, you can save the pasta aside and then serve the mixture over the pasta on a plate for a different presentation.
---
Comments? Please use the contact page form.
Copyright © 2008 Tom Simondi, All Rights Reserved