Chicken Pot Pie (Quick)
To be honest I've never much liked chicken pot pie because of the pie crust getting soggy and overpowering the mixings. So, when I ran across this recipe somewhere I adapted it a bit and now it's one of my favorites. It's more chicken pot biscuits than pie.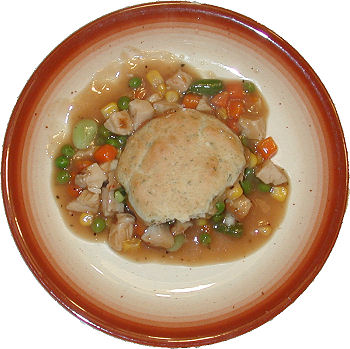 Ingredients:
For the filling:

Pre-cooked Chicken Strips

Frozen Mixed Vegetables

Turkey or Chicken Gravy Mix and Mrs. Dash (I like the turkey mix)


For the topping:

Bisquick, Milk, and Parsley (fresh if you have it)

Directions:
Preheat the oven to 350 degrees.
Use about four heaping mixing spoons of Bisquick, a few shakes of parsley, and add enough milk to basically make a biscuit mixture.

Prepare the ingredients for the mixture. Cut up a 6-8 oz package of pre-cooked chicken strips and measure out a cup of the frozen mixed vegetables.

Prepare the gravy mix (usually stir the mix into a cup of water) to make a cup of liquid.

Add the chicken, vegetables, and a shake of Mrs. Dash. Bring to a boil and cook for a couple of minutes. Keep stirring so nothing sticks and the gravy does not lump.

Now, in a baking dish add the cooked ingredients and then spoon the biscuit mixture on top in different locations (I usually quarter the mixture and put four blobs on top).

Bake the assembled mixture in a 350-degree oven for 12 to 15 minutes until the mixture bubbles and the top of the biscuits are brown.

That's it. Spoon out and serve. This amount usually makes supper for two.
Notes:
I wish I could remember where I saw this recipe to give them credit. It's not original from me.
While I have not tried it, you could probably use beef gravy mix and cut up cooked beef to make a beef pot pie just as easily.
You can vary the frozen vegetable mixture you buy to vary the look, feel, and taste of the final dish.
---
Comments? Please use the contact page form.
Copyright © 2006 Tom Simondi, All Rights Reserved